CreativeMornings Charlottesville with Ashon Crawley on SPIRITUALITY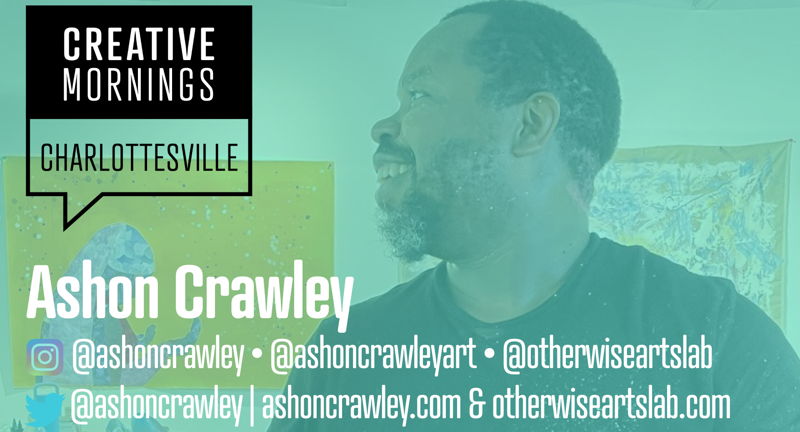 Ashon Crawley is a writer, artist and teacher, exploring the intersection of performance, blackness, queerness and spirituality.
Associate professor of Religious Studies and African-American and African Studies at the University of Virginia, he is author of Blackpentecostal Breath: The Aesthetics of Possibility (Fordham University Press) and The Lonely Letters (Duke University Press). He is currently working on a book about black social life; a book about the Hammond B3 organ, the black church, and sexuality and a short story collection. A MacDowell interdisciplinary arts fellow, and a New City Arts Initiative Fellow, his work has been featured at Second Street Gallery, Welcome Gallery, Bridge Projects and the California African American Museum. All his work is about otherwise possibility.
July's Theme is Spirituality
Spirituality is the search for our deepest values and meanings, something that touches us all. It is our yearning to peel back the curtain on the world we can see. The word comes from the Latin spiritualis, meaning "of breath, wind, and air." It comes so naturally it might as well be breathing.  
Spirituality can be found in meditation, in science, in holy spaces, in music, in community. We locate the sacred in the stars that guide us home, our capacity to love both kin and stranger, the divine that gathers in the kitchen dustpans and the forest groves lit by fireflies.
Through spiritual practice — be it by prayer mat or paint brush, microscope or movement — we seek answers to the eternal questions: How should a person be? How might we find meaning in the mundane, and purpose through great pain? How can we repair the world? 
Our Jeddah chapter chose this month's exploration of Spirituality, and Bayan Yasien illustrated the theme. 
CreativeMornings is a free, monthly breakfast lecture series for the creative community. It happens in 224 cities in 67 countries around the world. Charlottesville is the 180th chapter, and your local hosts are Kori Price, Emma Terry, and Maureen Brondyke. There will be a creative lecture (generally) on the 2nd Friday of each month centered around a global theme picked by CreativeMorning chapters around the world! Stay tuned for updates as we announce the theme and speaker on the first of the month. Registration opens at 10 am the Monday before the event!