Landscapes and Georgia O'Keeffe Revisited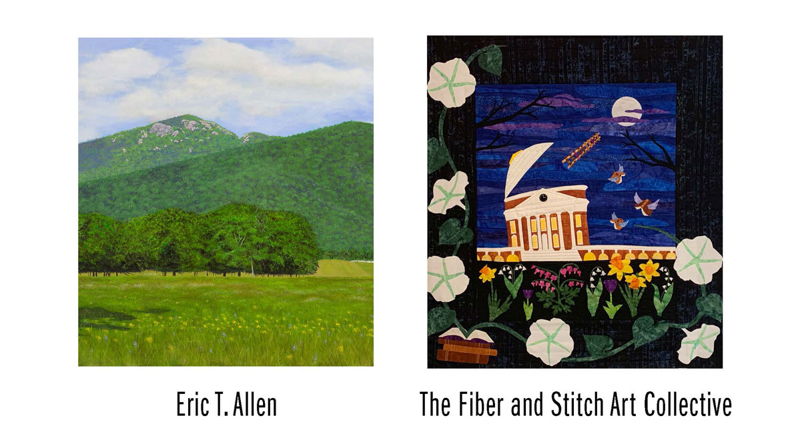 by Eric T. Allen and the Fiber and Stitch Art Collective... On view through December 8, 2023.
The Fiber and Stitch Art Collective is a group of Central Virginia artists based in Charlottesville. The artists in the Collective use fiber and thread in a variety of ways to create two- and three-dimensional works. In addition to providing support to each other, Fiber and Stitch Art Collective members aim to provide people in Central Virginia an opportunity to experience the diversity of art quilts and the unique use of fiber and other forms of stitch art.
About the Artist by Eric T. Allen on August 16, 2020
Growing up in Central Virginia, much my free time was spent exploring the lakes, streams, woods and mountains around me. It is where I felt a closeness with God that is difficult to put into words. I discovered my passion for art in late elementary school and pursued it through the end of high school.
Much of my adult life was spent working my way up in the local print media industry as an advertising manger, graphic designer, editor and finally as a publisher. Later, I went on to graduate from film school. Throughout this time, I also served in the United States Marine Corps Reserve and the Army National Guard for a combined 24 years before retiring in 2019. It was in late 2019 that I rediscovered my passion for art, particularly oil painting, and have been painting full time ever since.
The painting subjects that I am drawn to tend to be dramatic unspoiled landscape scenes that stir my soul. Sometimes I will find an old or forgotten structure that will evoke or reflect an emotion in me. I paint in oils on canvas or panels. Archival quality giclee prints are available for most of my original oil paintings.
The Connaughton Gallery is located in the McIntire School of Commerce on the 3rd floor of Rouss & Robertson Halls, East Lawn. Public parking is available in The Central Grounds Parking Garage on Emmet Street South.