Radioactive Inactives: Patrick Nagatani & Andrée Tracey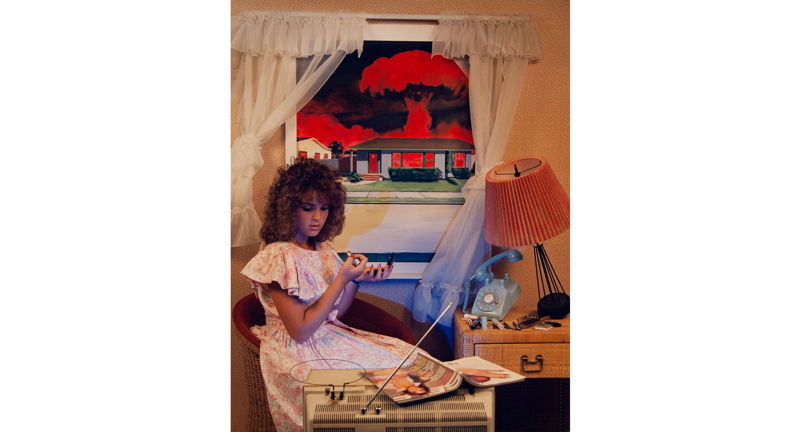 On view through November 26, 2023
Radioactive Inactives: Patrick Nagatani & Andrée Tracey presents a series of 11 fictional portraits depicting people in highly constructed sets resembling domestic interiors. Each subject or set of subjects is placed between a television and a large window frame through which we see a red mushroom cloud rising threateningly into the sky. Lamps, curtains, and other objects in the room are thrown askew, representing the impact from the nuclear explosion. Yet, this doesn't appear to affect any of the sitters who remain transfixed by the television in front of them.
Artists Patrick Nagatani and Andrée Tracey made Radioactive Inactives during their prolific six-year collaboration. The series combined Nagatani's narrative photography and Tracey's vibrant paintings. The artists conceived of the project as social commentary, using humor to explore the apathy of Americans in the face of nuclear destruction. This exhibition revisits Radioactive Inactives more than 30 years after its creation, inviting viewers to examine the series through the lens of late-stage capitalism and consider whether the (in)attention of the sitters is the result of their individual shortcomings or systemic design.
Patrick Nagatani and Andrée Tracey. Sioux City, Iowa, from "Radioactive Inactives," 1987-1988. Ektacolor print, 20 in x 16 in. Gift of the artists through the courtesy of Ray A. Graham III, 1989.21.11. The Fralin Museum of Art at the University of Virginia. © Patrick Nagatani and Andrée Tracey
This exhibition is made possible through support from The Fralin Museum of Art Volunteer Board. The Fralin Museum of Art's programming is generously supported by The Joseph and Robert Cornell Memorial Foundation. Thanks to our in-kind donors: WTJU 91.1 FM and Ivy Publications LLC's Charlottesville Welcome Book.
---------
MUSEUM HOURS
Monday: Closed
Tuesday: 10AM - 5PM
Wednesday: 10AM - 5PM
Thursday: 10AM - 5PM
Friday: 10AM - 8PM
Saturday: 10AM - 5PM
Sunday: 12PM - 5PM
The museum is closed on the following holidays: New Year's Day, Independence Day, Thanksgiving Day, Christmas Eve, and Christmas Day.