The Fralin Museum of Art Commemorates the Work of Leading American Artist Joseph Cornell
Enclosing Infinity Features Six Box Constructions by the Artist
Image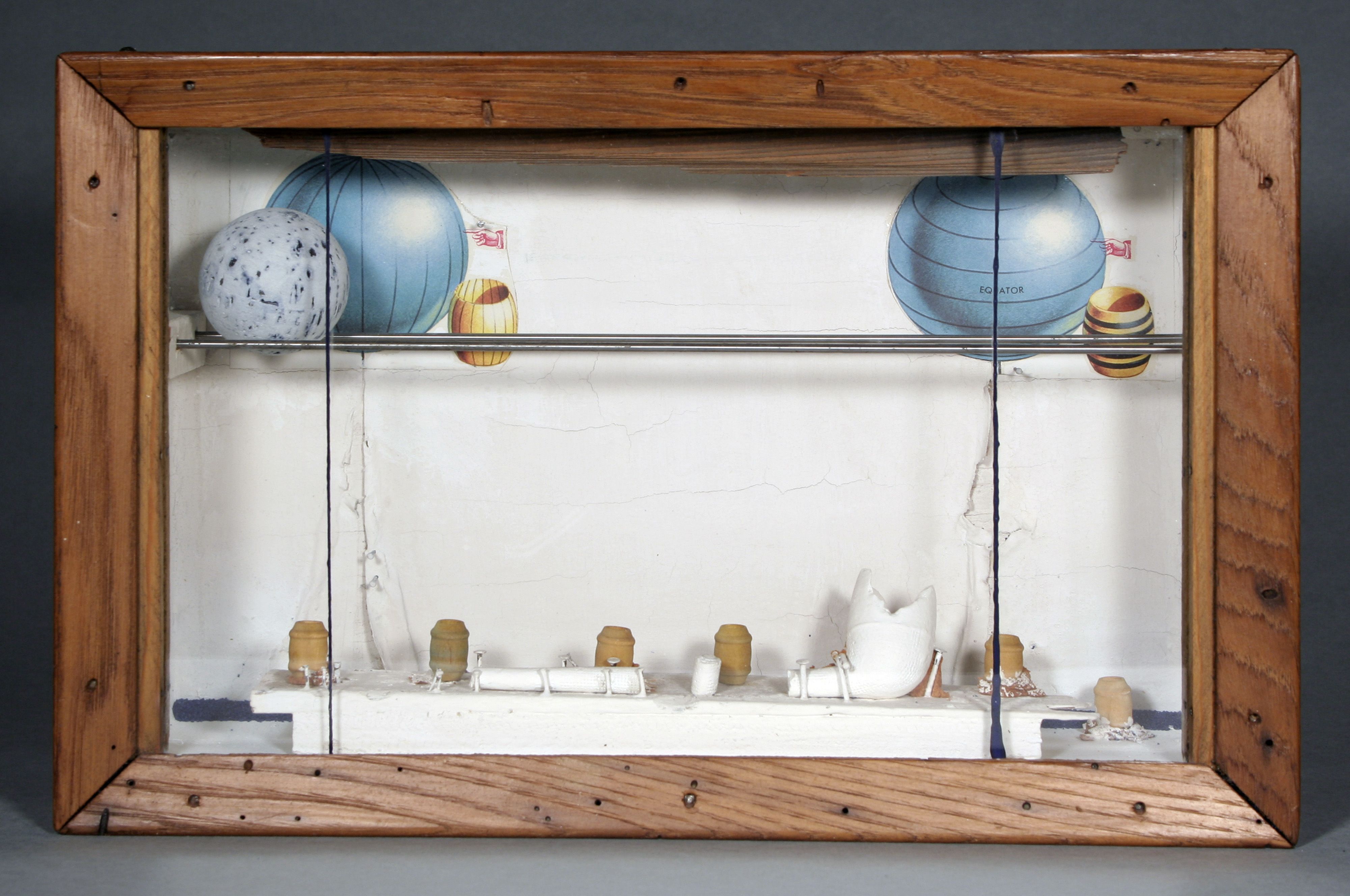 CHARLOTTESVILLE, Va. – In commemoration of the 50th anniversary of the passing of Joseph Cornell (1903-1972), one of America's most important and enigmatic artists, The Fralin Museum of Art at the University of Virginia has organized an exhibition of his work. Joseph Cornell: Enclosing Infinity, on view June 26, 2022-Feb. 12, 2023, is curated by Matthew McLendon, the Museum's J. Sanford Miller Family director. The intimate, focused exhibition will feature six boxes from The Fralin's collection, inviting visitors to enter Cornell's world of fantasy.
Cornell worked in collage and film, though he is best known for his signature shadow box constructions—small worlds unto themselves made of the bric-a-brac he collected as he wandered through New York City's dime stores, used book merchants and purveyors of back copies of newspapers and magazines. The Fralin is home to several important Cornell box constructions. While frequently linked to Surrealism, Cornell did not create his constructions through automatic or stream-of-consciousness practices. Instead, he employed meticulous planning. This deliberate process led to major groupings of some of his works, including the Soap Bubble, Sand Tray, Games and Juan Grisseries, all represented in The Fralin's collection.
"Joseph Cornell remains one of the most beloved and influential artists today," said McLendon. "By providing our audiences the opportunity to spend sustained time with his signature constructed boxes, we hope to highlight and celebrate his legacy. In these small, enclosed spaces, Cornell created windows into whole worlds which continue to spark our imaginations."  
Among The Fralin's collection are particularly fine examples from his Soap Bubble series and his set of boxes created in homage to the Spanish artist Juan Gris — the latter making use of various images of a cockatoo that obliquely pay reference to Gris'1914 painting, The Man at the Café.
Outside of his time at the Phillips Academy in Andover, Mass., Cornell rarely traveled outside of New York. He devoted much of his life to caring for his mother and younger brother, Robert, who had cerebral palsy.
During his life, Cornell had solo exhibitions at the Guggenheim Museum, Metropolitan Museum of Art, Albright-Knox Gallery and Pasadena Museum (now the Norton Simon Museum), as well as an exhibition for children in a gallery at Cooper Union in New York. That exhibition featured 26 mesmerizing works displayed at children's eye level. Posthumously, his work has been exhibited at MoMA, the San Francisco Museum of Modern Art, the Smithsonian American Art Museum, Peabody Essex Museum, Royal Academy of Arts in London, Kunsthistorisches Museum in Vienna and more.
Cornell's work is in the collections of many of the museums that displayed it as well as the Art Institute of Chicago, Whitney Museum of American Art, Tate Museum London, Philadelphia Museum of Art, Los Angeles Museum of Contemporary Art, Los Angeles County Museum of Art and The Fralin Museum of Art.
---
About The Fralin Museum of Art at the University of Virginia
Established in 1935, the University of Virginia Art Museum became The Fralin Museum of Art in 2012 in honor of a bequest of American art and service to the university by Cynthia and W. Heywood Fralin. The Museum maintains a collection of more than 13,000 works of art, including American and European painting, works on paper and sculpture from the 15th through the 20th centuries; art from the ancient Mediterranean; Asian art; and Native and ancient American art. Housed in the historic Bayly Building near the Rotunda on the landmark UVA campus, The Fralin is dedicated to serving the widest possible audiences and engaging comprehensive visual education to enhance its visitors' understanding of world cultures. Throughout the year, the Museum presents a diverse selection of exhibitions, programs, research and events that bring the university and broader community together.
The Fralin Museum of Art's programming is made possible through generous support of The Joseph and Robert Cornell Memorial Foundation. We also wish to thank our in-kind donors: WTJU 91.1 FM and Ivy Publications LLC's Charlottesville Welcome Book.