2021-22 Arts Council Libraries Grant: Making Noise and Reconnecting after COVID
Image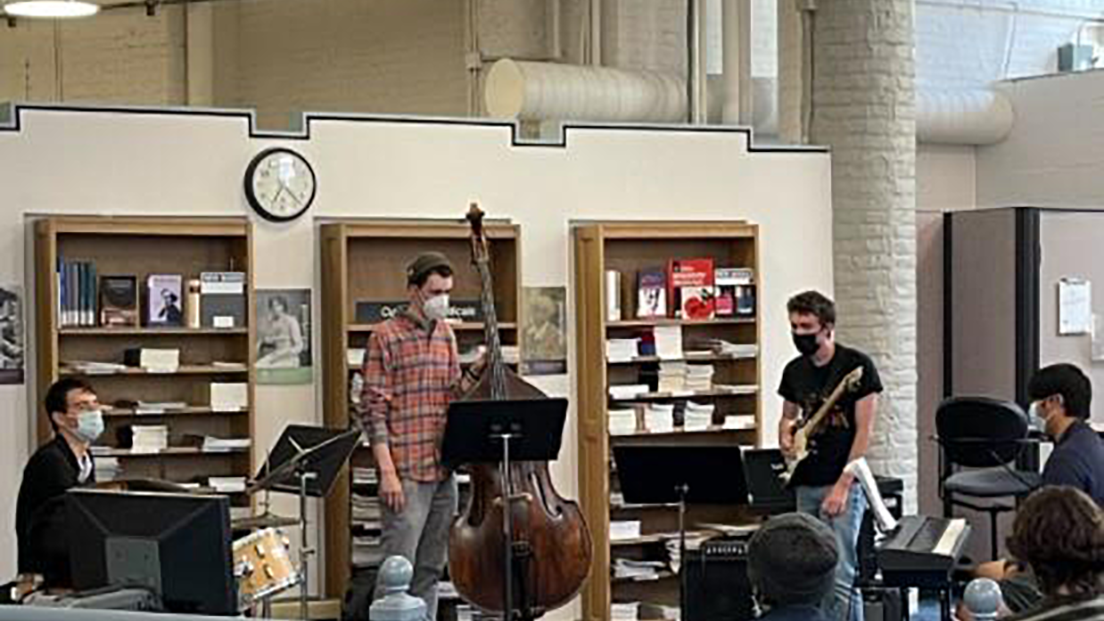 Making Noise, a performance series that originated in 2014 by Music Librarian Matthew Vest, has hosted a number of dramatic, musical, and dance performances over the years. Vest said, "[Making Noise] makes the library itself a locus of the types of scholarly and artistic conversations that typically happen in non-library spaces, simply by inviting music and noise into a controlled environment."
This series aimed to inspire UVA and local community members to engage with the Library in new ways by conceiving it as a space for more than quiet study while providing a platform for artistic endeavors at UVA and beyond. Success was measured by attendance and participant feedback. Two performances were completed in the Fall 2021 semester and three in the Spring 2022 semester. 
The $8,000 Arts Council Grant funding supported guest, faculty, and student performances. The funds were used to create promotional materials, pay performance fees, and host receptions at each performance to encourage attendance and foster a collegial and casual atmosphere for performers, students, and faculty to mingle.
This series has increased the visibility of the arts on Grounds by facilitating performances, encouraging students to engage with the Music Library in innovative ways, and building stronger relationships between arts disciplines on Grounds. This series also provides a performance venue for those who don't always have a place to share their creative work, such as students from the Composition and Computer Technologies Music Program. The program has not happened since the season was cut short in 2020. However, the program was reinstated this year with an increased emphasis on student involvement in the program planning. It provided a leadership opportunity for an interdisciplinary graduate steering committee that planned three out of the five events this past school year. The 2021-22 Making Noise season helped to refresh and rejuvenate the art of the live performance in the UVA and Charlottesville communities. This was especially necessary in the wake of the COVID-19 Shutdown on live performances. 
The first concert, Jazz in the Afternoon with a UVA jazz group, brought in 84 audience members. Thirty-eight people attended the second concert featuring local composer and guitarist Greg Brown. One student who attended the first concert played classical piano but had never been exposed to live jazz. They were entranced and talked to Amy Hunsaker after the show. They said they had never experienced anything like it and asked about taking jazz piano lessons, so she shared some information with them. 
Both concerts had community members in the audience. A few of them came to support the performers who were friends or family. Others came because they saw ads for the concerts in local media outlets and wanted to attend. A few people brought their kids to the jazz concert, which took place during a school holiday. The parents were happy they could bring their kids to an event where they could experience live jazz without having to take them to a club or late-night event. Others said they simply loved jazz and lived close enough to the University that it was easy for them to attend. Both Fall events were successful. They had good attendance, and the performers and audience members could mingle after the performances over coffee and snacks. 
The project was proposed by Amy Hunsaker, Research Librarian for Music and Performing Arts.
---
About the UVA Arts Council: The Arts Council provides advocacy and support for current and increased programming in the arts at the University of Virginia. The Council supports projects that develop and strengthen the bonds of interest and participation among departments and programs across Grounds, fostering opportunities for creative innovation, learning, and engagement. Members of UVA's Arts Council believe that a strong, robust arts community at UVA enriches the student experience, builds bridges in our larger community, and inspires leaders of the next generation. Check out all awarded grants here >