Arts on the Hill: A Very Special Afternoon with Jon Batiste
An OpenGrounds Event
Image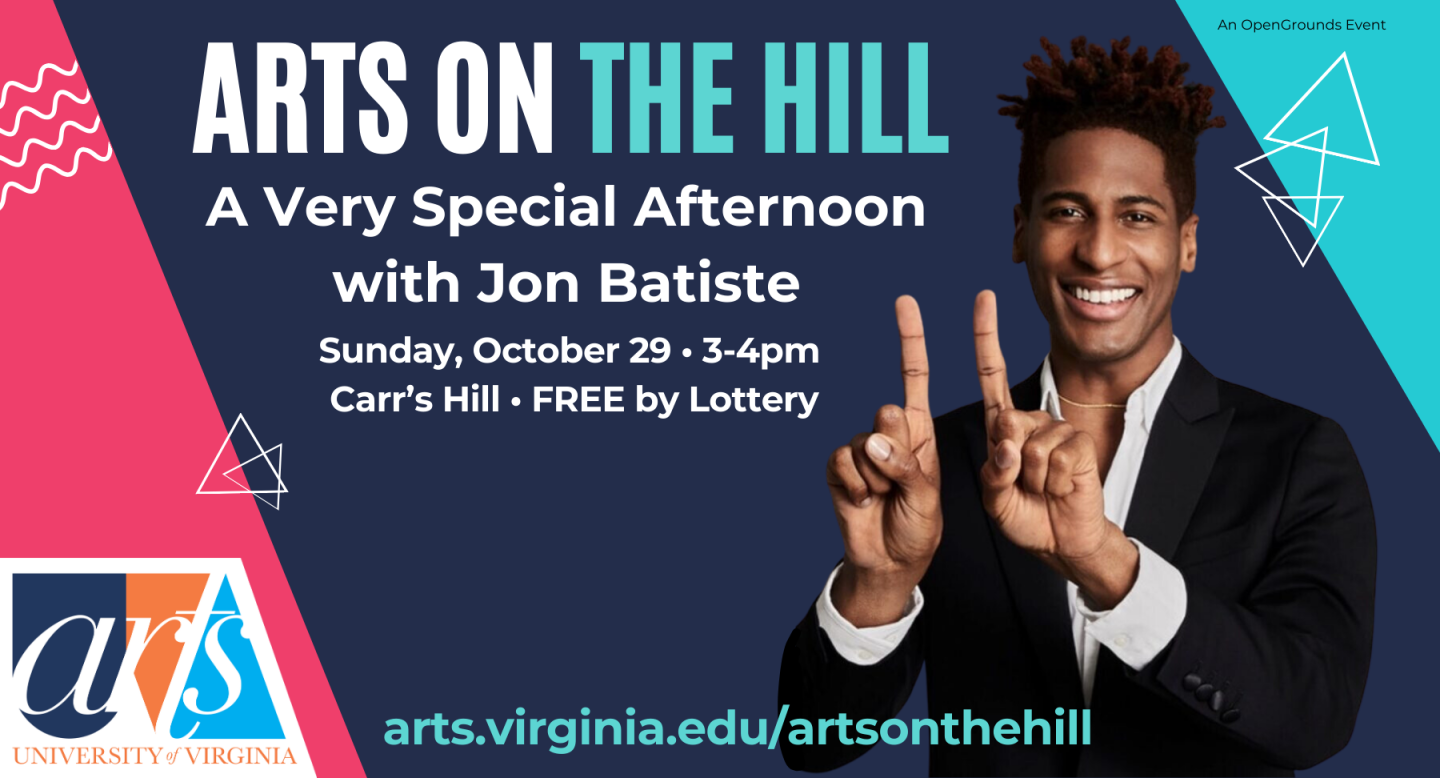 Sunday, October 29, 2023 • 3-4pm (doors open at 2:30pm) • Carr's Hill • Drinks & Snacks •  FREE by Lottery
---
UVA Faculty, Staff, & Students: All UVA faculty, staff, and students can enter the lottery (one submission per person). 
Lottery: All UVA faculty, staff, and students are eligible to enter the lottery, with preference given to UVA students. The deadline to enter the lottery is 11:59pm on Tuesday, October 24. Winners will be notified by no later than 5pm on Wednesday, October 25.
Questions or Concerns: Email Emma Terry, Programs & Communication Director for UVA Arts, or Gracelyn Spates, Coordinator, Major Events.
---
Thanks to the Virginia Film Festival, we have the incredible fortune to welcome Jon Batiste to UVA on Sunday, October 29th. The event will be moderated by UVA alum Bilal Qureshi from NPR. 
Jon Batiste is a Grammy, Golden Globe, and Academy Award-winning recording artist, composer, and television personality. He performed as bandleader on The Late Show with Stephen Colbert from 2015 to 2022.
Bilal Qureshi is a multimedia journalist with an interest in the intersection of politics, history, and culture. Since 2008 he has been a full-time producer and occasional reporter for National Public Radio's flagship news magazine, All Things Considered.
---
Want to experience more? Make sure to get a ticket to American Symphony on Sunday, October 29 at 7:30pm at The Paramount Theater. 
In 2022, the Grammy and Oscar-winning jazz and contemporary recording artist Jon Batiste faced a pivotal moment in his career. Publicly, he was perceived to be reaching the pinnacle of his success, serving as the bandleader for The Late Show with Stephen Colbert and garnering eleven Grammy nominations. Filmmaker Matthew Heineman had just committed to directing a documentary capturing Batiste's rise to fame, notably his upcoming performance of "American Symphony" at Carnegie Hall.
Behind the scenes, however, he had received shattering news.  Emmy-winning journalist and author Suleika Jaouad, Batiste's longtime partner, was faced with the aggressive return of a cancer that had been in remission for a decade. What initially began as a documentary focusing on Batiste's remarkable accomplishments soon became a poignant portrayal of a couple navigating life's emotional peaks and valleys. American Symphony provides an intimate glimpse into one artist's endeavor to balance personal adversity with professional ambition.
Discussion with film subject Jon Batiste and director Matthew Heineman (VAFF Directorial Achievement Award). After the conversation, Jon Batiste will offer a brief performance. 
---
Arts on the Hill is a recurring event on Carr's Hill featuring artists and scholars from our faculty and student body, as well as visiting artists and scholars from around the globe. President Jim Ryan hosts guests each month during the academic year for performances and discussions around the Arts at UVA with FREE drinks and snacks to boot!! Arts on the Hill is an ongoing collaboration between UVA Arts, the Office of the President & the Office of the Executive Vice President and Provost.