Look – It's the Great Rotumpkin!
Spooktacular Halloween Treat for the Senses Set to Transform UVA Rotunda Into Massive Movie Screen Showing Halloween-themed Scenes by Local Multimedia Artist Jeff Dobrow and the AV Company
Image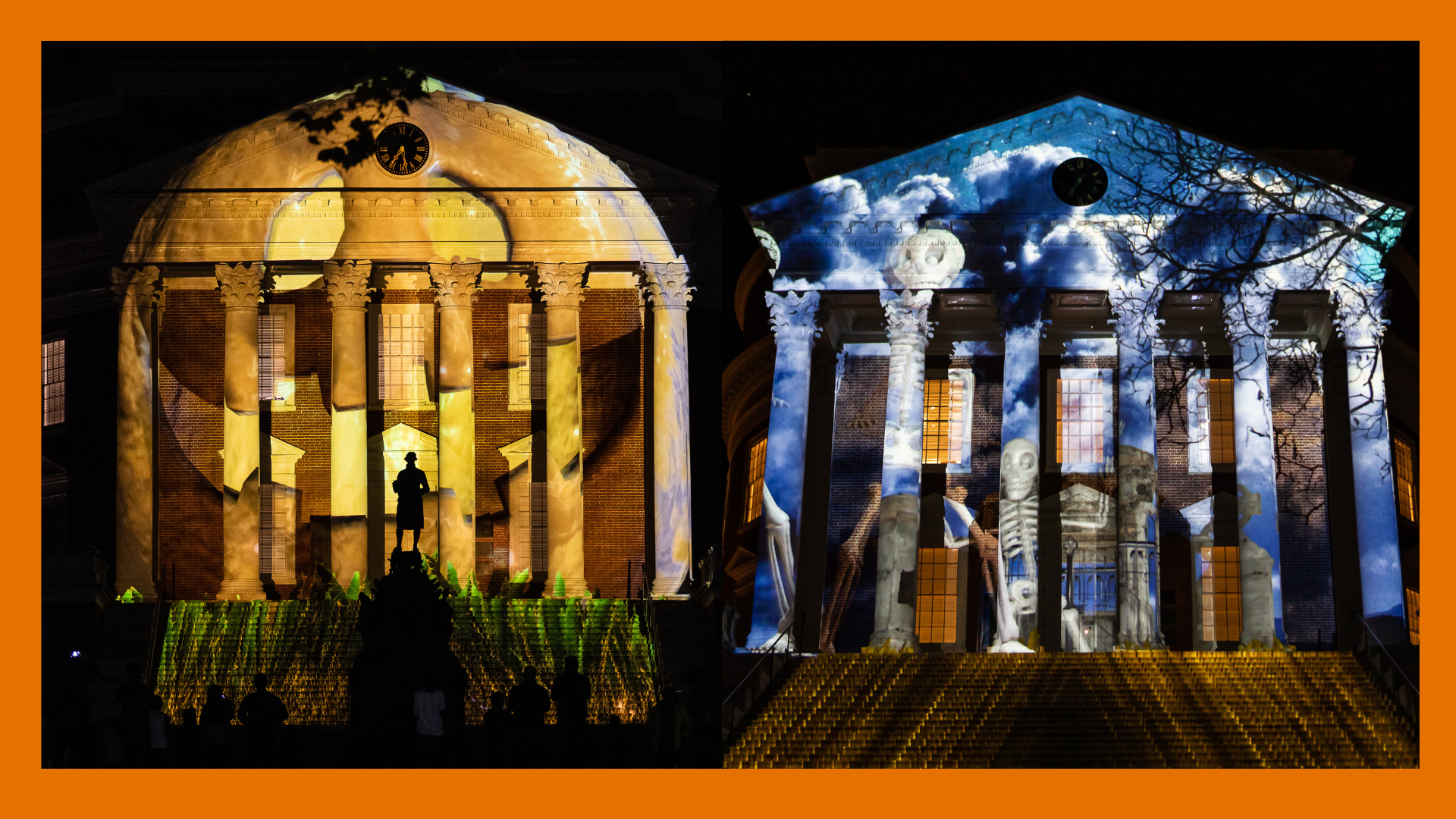 CHARLOTTESVILLE, VA – October 19, 2022 – One of the University of Virginia's most iconic landmarks is getting ready for its Halloween-style closeup with the return of the "Great Rotumpkin."
The "spooktacular" Halloween event, which debuted last Fall, will feature a variety of original Halloween projections shown on the Rotunda, including dancing skeletons, bubbling cauldrons, and a haunted house, sure to get the community in the holiday spirit. The display, by local multimedia artist Jeff Dobrow and the A.V. Company, will light up the University Avenue side of the Rotunda from October 28-31 from 7:00 PM to 11:00 PM.

The event is free and open to the public.
"We are really looking forward bringing this fun, family-friendly event back this year," said UVA Vice Provost for the Arts Jody Kielbasa. "It is a perfect way to cap off a trick-or-treating experience, and we hope to see it evolve into another tradition that brings the University and Charlottesville communities together each year."
"The Great Rotumpkin — in addition to being a super fun thing to say with a serious face — is a unique, spooky spectacle not to be missed. Bring your kids, a blanket, and a sense of Halloween wonder that I think Edgar Allen Poe would even approve." said Matt Weber, Chief Creative Officer and Senior Advisor to the President at the University of Virginia.
Vignettes will cycle as the evenings go on, one minute showing a graveyard with jolly, dancing skeletons, a haunted house or an animated Halloween music box, with a rising moon and rotating, ghoulish pumpkins, bubbling cauldrons, purple skull and more. You'll never know until you see for yourself!
Projection mapping plays with the evolving, fluid relationship between technology and art to produce interactive, immersive and involving experiences. The show provides a great chance for students and community members to come together to experience art and fill the Halloween season with a healthy dose of wonder while viewing UVA's iconic architecture in a literal new light.
The Great Rotumpkin is presented by UVA Arts, the Office of the President, the Office of the Provost and Vice Provost for the Arts and UPC.
The Great Rotumpkin • A Spooktacular Halloween Projection
Dancing skeletons, spooky pumpkins, bubbling cauldrons and a haunted house will all make appearances on the exterior of UVA's Rotunda this weekend in celebration of Halloween this year!!